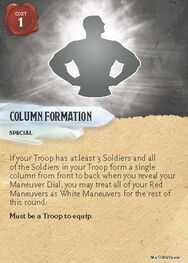 | | |
| --- | --- |
| Cost | 1 |
| Type | Heroic |
| Class | Special |
| Restriction | Must be a Troop to equip. |
If your Troop has at least 3 Soldiers and all of the Soldiers in your Troop form a single column from front to back when you reveal your Maneuver Dial, you may treat all of your Red Maneuvers as White Maneuvers for the rest of this round.
Available Through
Edit
Ad blocker interference detected!
Wikia is a free-to-use site that makes money from advertising. We have a modified experience for viewers using ad blockers

Wikia is not accessible if you've made further modifications. Remove the custom ad blocker rule(s) and the page will load as expected.