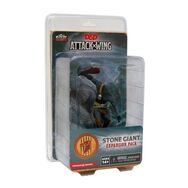 Stone giants are known for their mastery at hurling massive rocks across mighty distances, and Ancoram the stone giant elder is no exception. His deft hands can launch rocks at his foes with blinding speed, slamming his enemies hard and disrupting their plans.
Miniature
Edit
Creature Card
Edit
Upgrade Cards
Edit
Equipment
Edit
Campaign Adventure
Edit
6.3: The Whispering Gate.
Ad blocker interference detected!
Wikia is a free-to-use site that makes money from advertising. We have a modified experience for viewers using ad blockers

Wikia is not accessible if you've made further modifications. Remove the custom ad blocker rule(s) and the page will load as expected.