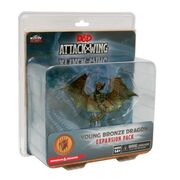 When the older dragons are unable to breach the adamantine doors blocking the way to the hall of Luminos the Mighty, a secret passage becomes the only way inside. The larger dragons, unable to polymorph down to human size due to an enchantment outside the palace, must wait outside while their minions forge ahead. Fortunately, Eyruaad is just small enough to cram himself through the tight passage, and now he is eager to prove himself to his brethren. But what he finds inside the hall of Luminos would dismay even the most experienced dragons...
Miniature
Edit
Creature Card
Edit
Upgrade Cards
Edit
Campaign Adventure
Edit
7.2 The Hall of Luminos the Mighty
Ad blocker interference detected!
Wikia is a free-to-use site that makes money from advertising. We have a modified experience for viewers using ad blockers

Wikia is not accessible if you've made further modifications. Remove the custom ad blocker rule(s) and the page will load as expected.